About the Book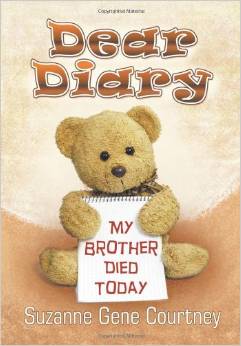 In the circle of life, we go through many changes. But in the end, we all are going to die. Explaining death to a young child doesn't have to be difficult. Dear Diary: My Brother Died Today explains the concept of dying in words that a child can understand.
This book is the third in a trilogy about the circle of life. It lets children perceive the life in heaven that awaits them, and although the story is fictional, it could easily happen. In it, a seven-year-old girl records the sudden death of her older brother by writing her feelings in her diary. In her own innocent way, she tells about being able to see him when no one else can. She embraces this ability and is not afraid.
Throughout the book, the little girl describes her brother's nearness, even when she cannot see him anymore. In her own honest and trusting way, she is able to help her parents cope with their loss. She also learns about angels and knows that her brother is safe.
About the Author
Suzanne Gene Courtney of Monroe, Michigan, wrote this children's story to fulfill a need. Even though children are innately trusting, they sometimes worry when a loved one dies. "Since my son's passing in 1997, our family has received numerous messages from Christian mediums to help us gain knowledge about life on the other side. We continually receive great peace and clarity from our glimpses into heaven, and through the guidance of our angels, we are leading positive, happy lives."